Datadog
Datadog is a cloud monitoring solution that brings metrics from all of your apps, tools, and services into one place.
The integration uses custom webhooks in Datadog to automatically identify and notify the on-call resource on a variety of devices. The integration also allows users to mute and claim alerts from Datadog Monitors or to view xMatters shift data directly from their devices.
Do more with this integration
Incorporate this integration into your orchestrated incident resolution workflows with Flow Designer. After you create a configuration, the Flows tab appears. From there, you can build your flows — add new response options, connect to other apps, or even create new xMatters events based on activities in the flow — enriching the information injected by this integration along the way.
Get started with Datadog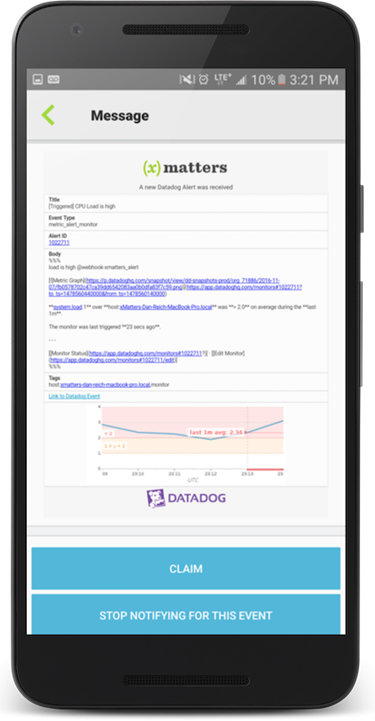 How to set up a Datadog configuration
After you give your configuration a name and description, type a name to use when sending alerts (so you can easily tell which configuration or integration the alerts are from), and add all of the users and groups you want to be notified.
Next, retrieve your API key, and create an application key for xMatters in Datadog.
Enter the Datadog API key and the xMatters application key in the fields on the configuration page in xMatters, and then click Save.
Once you save the configuration, xMatters displays the URLs and payload you need to configure Datadog: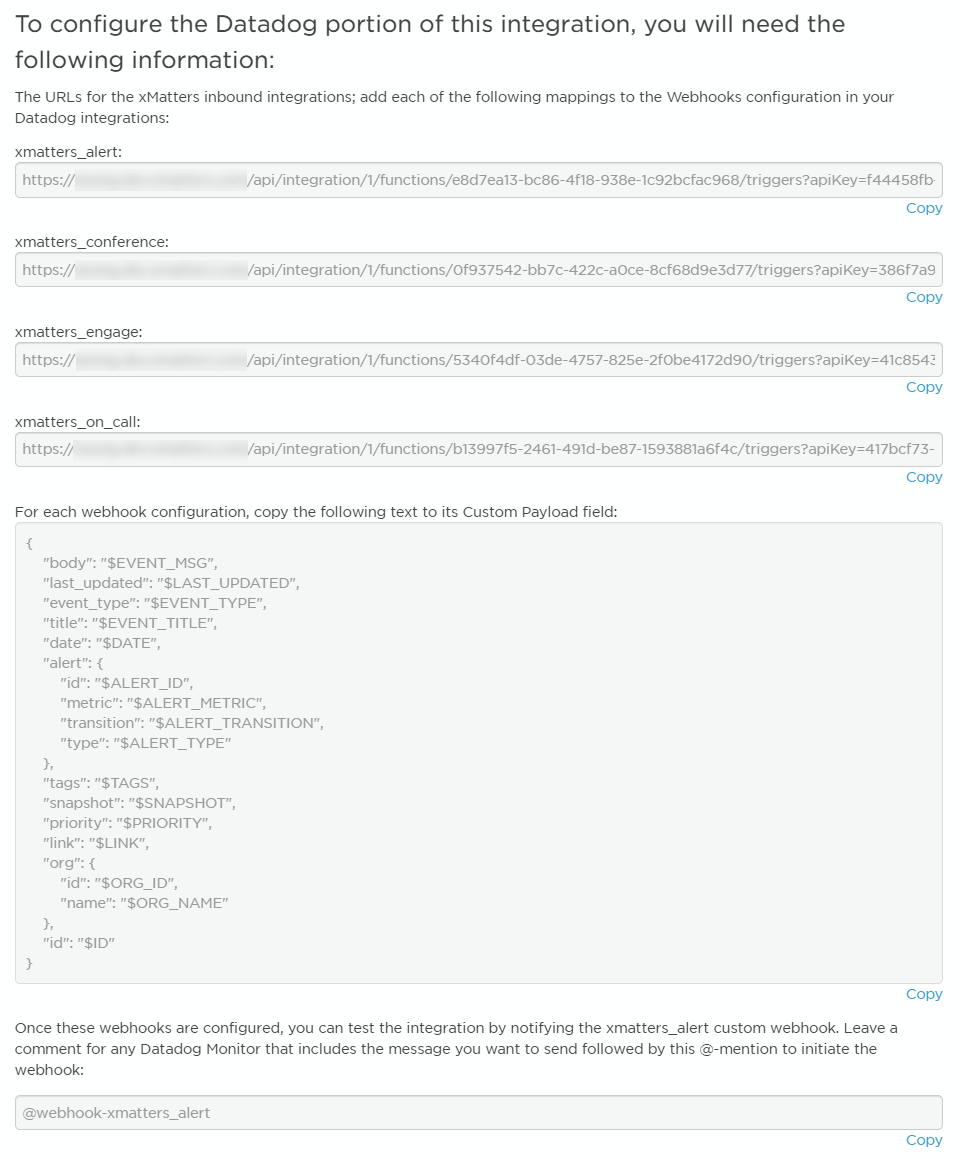 Add each of the mappings to the Webhooks configuration in Datadog.
Use your integration
The integration uses custom webhooks in Datadog that can be @-mentioned in event or monitor alert messages, or even directly in a status update within the event stream. Each webhook sends the same payload to a different xMatters integration, which process the payload to create events in xMatters, or send comments back to the original Datadog event.
You can test the Datadog Alerts feature by notifying the xmatters_alert custom webhook when one of your monitors moves into an Alert or Error state.
Troubleshooting
There are several places you can inspect when troubleshooting why an event is not sent to xMatters.
Extending your integration
Looking to do more with xMatters and Datadog? If you want to tailor the settings and notifications for the integration, you can convert it to a custom workflow.