Dynatrace
Dynatrace is a leading performance and application monitoring application. This integration lets you incorporate Dynatrace Problem alerts into your xMatters toolchain, allowing you to send alerts using xMatters and update the Dynatrace Problem with event status, device delivery, and response information from xMatters notifications.
Do more with this integration
Incorporate this integration into your orchestrated incident resolution workflows with Flow Designer. After you create a configuration, the Flows tab appears. From there, you can build your flows — add new response options, connect to other apps, or even create new xMatters events based on activities in the flow — enriching the information injected by this integration along the way.
Get all your questions on integrating with Dynatrace answered — take a live, online workshop led by one of our xPerts.
Get started with Dynatrace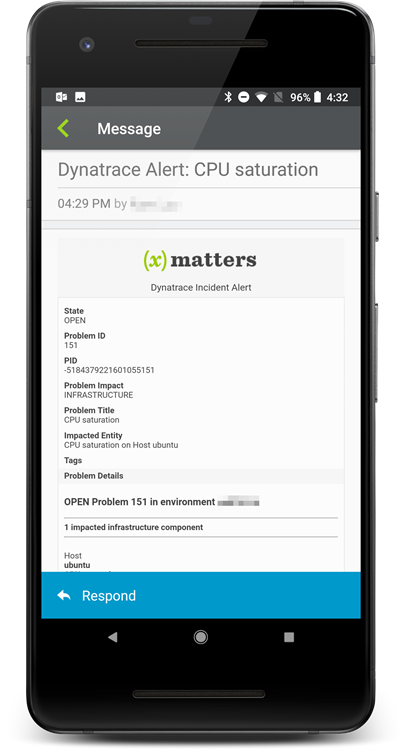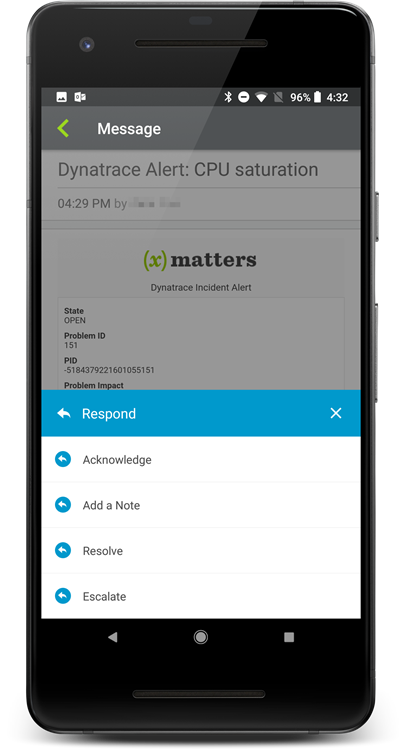 How to set up this workflow
Give your workflow a name and description to help identify it in the list of workflows.
Type a name to use when sending alerts so people receiving notifications can easily tell where its coming from.
Enter the URL of your Dynatrace instance and the API token you want to use to authenticate requests to Dynatrace.
Select the priority for events initiated by this workflow.
Set whether you want to disable all updates to the Dynatrace Problem. If unselected, responses to notifications and comments are always written to the Problem record. You can also select to update the record when the integration creates an event and when a notification is delivered.
Add all of the users and groups you want notified, and then click Save.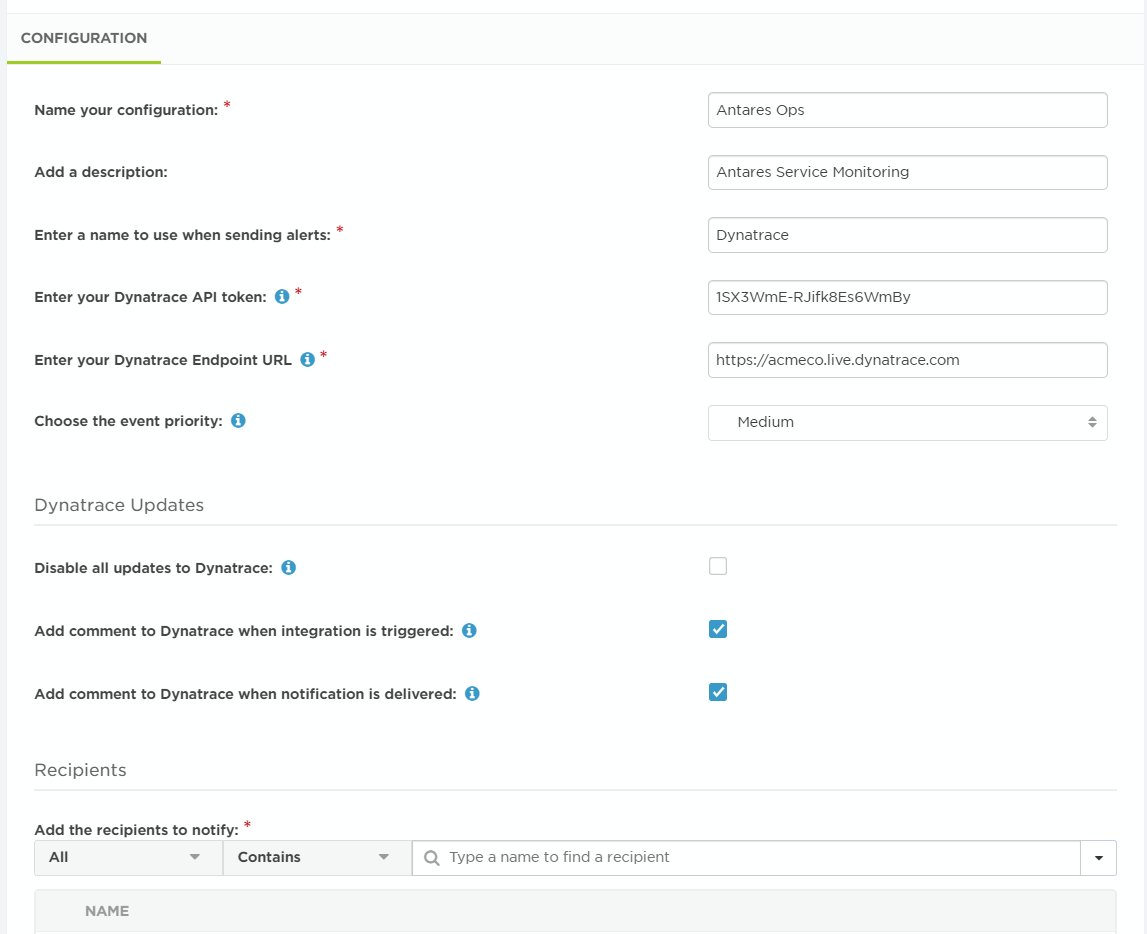 To set up the integration, you need your Dynatrace API token to authenticate the xMatters requests.
Next, enter the Dynatrace endpoint. This is the sub-domain and domain of your Dynatrace instance (for example, acmeco.live.dynatrace.com).
Set whether you want comments added to the Problem Comment in Dynatrace when the integration is triggered or when a notification is delivered to a user's device (comments are always added for a recipient's response and for any comments they added when responding). Here's an example of the comments that are added if the boxes are selected: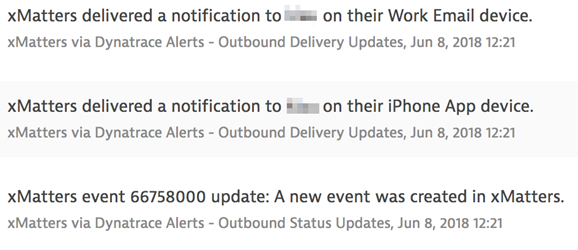 Set the priority you want to assign to events generated by this configuration. You can create multiple configurations if you want to assign different priorities (for example, if you create another webhook for a specific Dynatrace alerting profile).
After you save the configuration, xMatters displays the URL you need to configure Dynatrace. It also displays the custom payload, which should be automatically populated when you set up an xMatters integration in Dynatrace.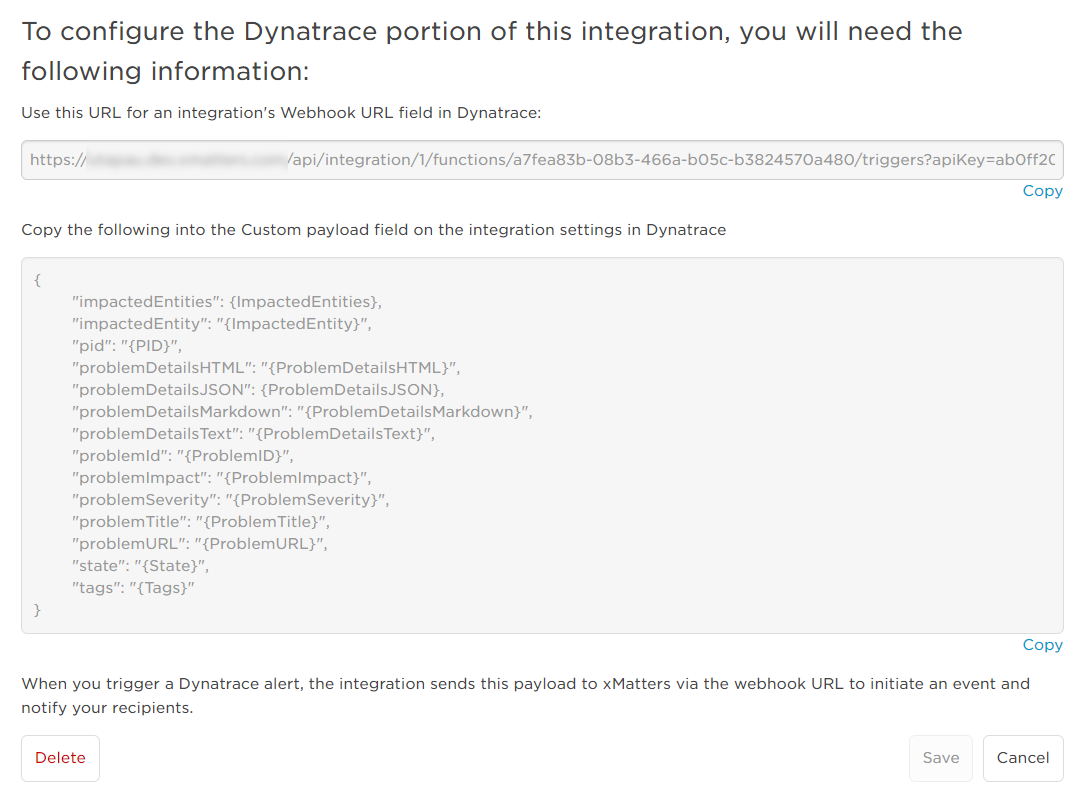 Use your integration
Dynatrace monitors all detected hosts in your environment. When it detects a problem, the integration sends a notification via xMatters, letting your team know what's happening so they can take action. You can trigger a test alert in your system to see the integration in action (for example, triggering a CPU saturation notification).
Extending your integration
Looking to do more with xMatters and Dynatrace? If you want to tailor the settings and notifications for the integration, you can convert it to a custom workflow.