Slack
Slack is a popular team communication tool that helps enable real-time collaboration. This integration adds an xMatters bot to your Slack workspace that lets you look up xMatters groups, see who's on call, and instantly invite on-call members to a Slack channel using an xMatters notification to their preferred devices.
Do more with this integration
Incorporate this integration into your orchestrated incident resolution workflows with Flow Designer. After you create a configuration, the Flows tab appears. From there, you can build your flows — add new response options, connect to other apps, or even create new xMatters events based on activities in the flow — enriching the information injected by this integration along the way.
Are you looking to integrate Slack into your automated toolchain using steps in Flow Designer? Check out these instructions instead.
Get started with Slack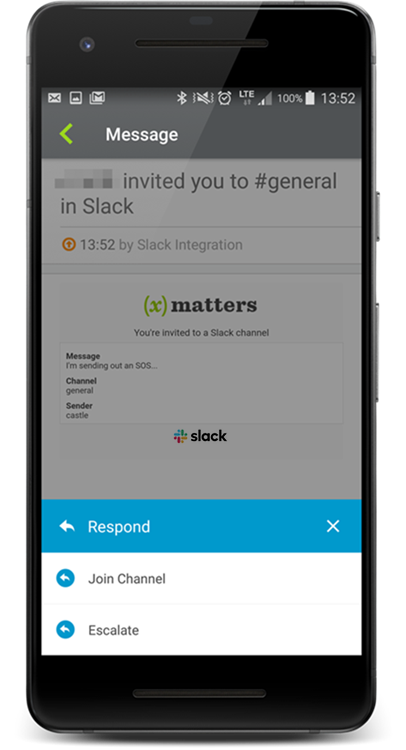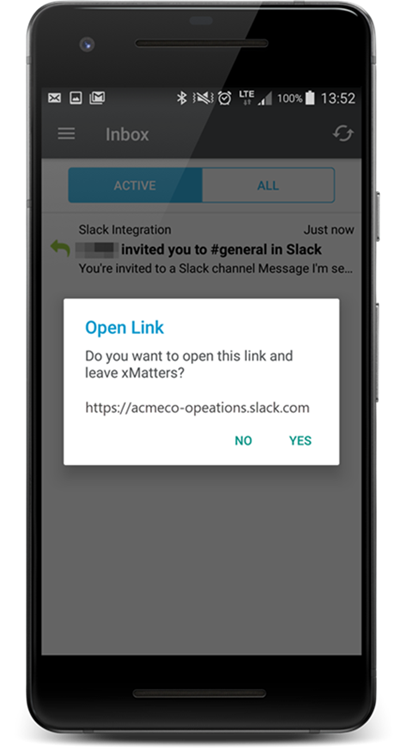 How to install a built-in workflow
To install this integration in xMatters, simply go to Workflow Templates on the Workflows tab and start typing the name of the integration you're looking for to filter the list. Once you find it, click its tile then click Next to get to the configuration screen.
How to set up a Slack integration
After you give your configuration a name and description, enter a name to use when sending alerts. This name is used when xMatters lets someone know that they've been invited to a channel in Slack (for example, by sending them an email or pinging them in the xMatters mobile app).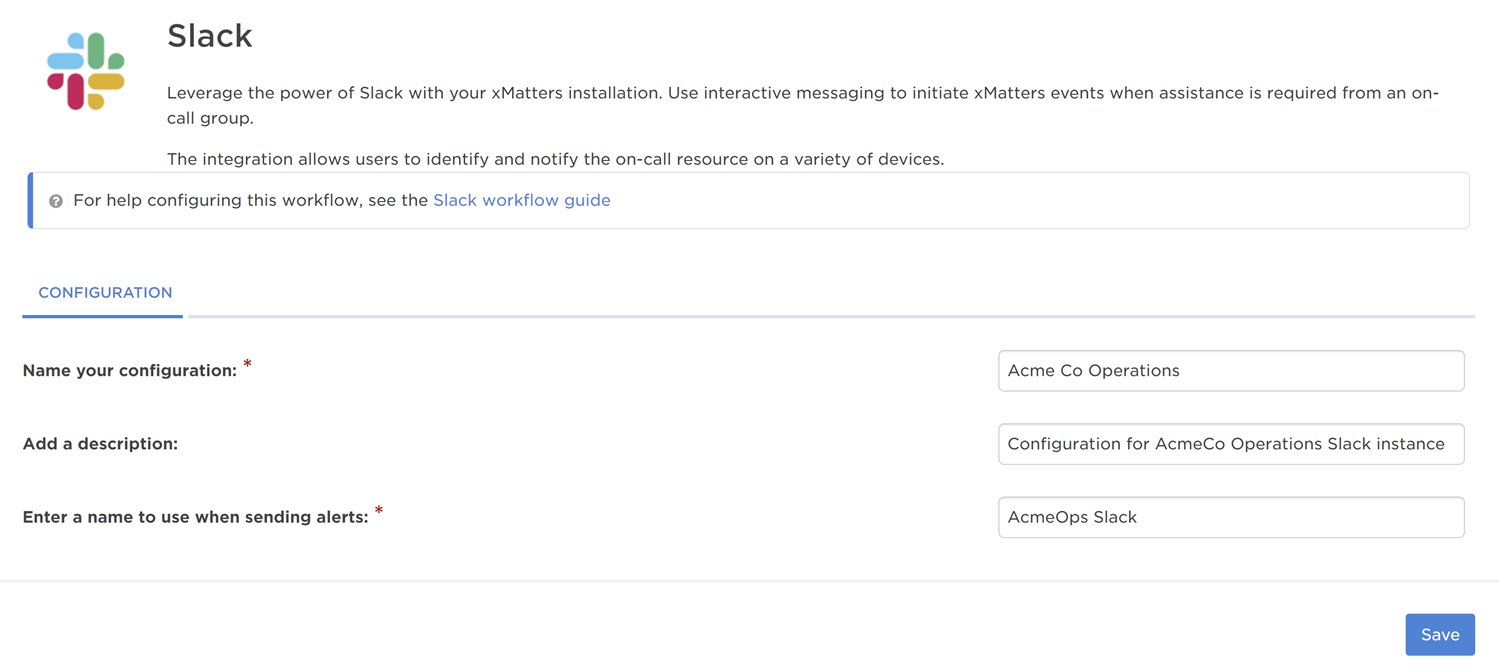 After you save the configuration, the Add to Slack button appears. Clicking this button opens a Slack authorization window, where you can pick the Slack instance you want to connect to and view what permissions xMatters needs in your Slack environment.
After you click Authorize to approve, you should see a success message saying you've successfully connected to Slack.
You can only connect one configuration to a Slack workspace. If you try to connect to a workspace that already has the xMatters bot installed, a dialog appears asking you to confirm that you want to overwrite the existing integration. It's a good idea to check in your organization to make sure no one else is already connected to the workspace. Also, if you want to use the xMatters bot in multiple Slack workspaces, you need to set up a separate configuration for each one.
Once you get the message that you're successfully connected, you can close the window and return to xMatters, which shows your configuration is now connected. The xMatters bot shows up in your list of apps in your Slack workspace and you can invite it to public channels (our bot doesn't get involved in direct messages or private channels just yet).
Use your integration
The integration uses the xMatters bot, which you can call into action with @ commands, to look up groups, see who's on call and quickly invite the on-call members of that group to a discussion in Slack.

How to use the

xMatters

integration in Slack
The first thing you need to do is invite the xMatters bot to your channel. Simply type @xMatters hello and hit Enter, and our bot will drop in and say hello.
You can enter @xmatters help to see what our bot can do — but here's the list anyway:
@xmatters hello: Say hello to our bot!
@xmatters find + a keyword: Find groups that match the keyword (or partial keyword — typing 'adm' finds 'System Admins' and 'Database Admins'). Pick your group from the list (if there's more than one). After you find your group, you can choose to see who's on call or send the on-call members an invite to the channel. (By the way, our bot also understands @xmatters lookup.)
@xmatters on-call + a group name: Look up who's on call in a particular group (again, you can type a partial group name and our bot will try to find it) and see the escalation path. When our bot shows you who's on call in the group, it also gives you the option to invite them to the channel. (By the way, it also understands @xmatters oncall.)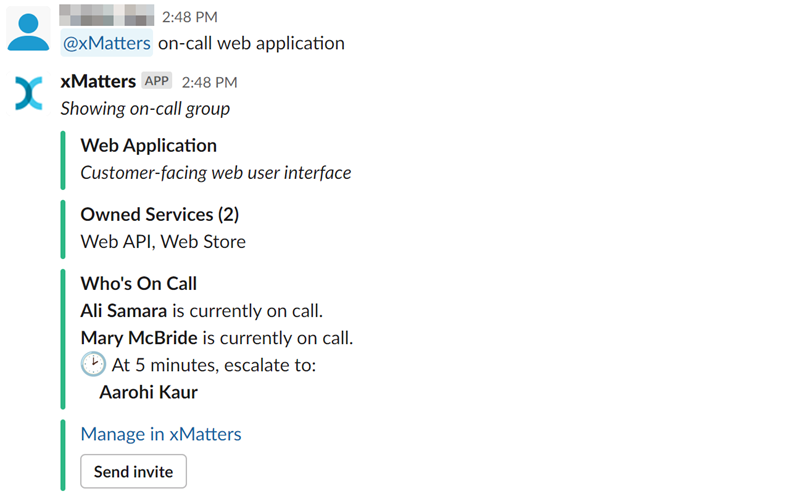 @xmatters invite + a group name: Use

xMatters

notifications to invite the on-call members in a group to the channel.

xMatters

looks up the on-call members in the group (if needed, looking up the on-call members of any groups that are on call, etc.), sends them a notification on their preferred devices (including a link to the channel, if supported — we can't send a link in a voice message). If they get the alert via email, text or the

xMatters

mobile app, they can click the link right in the notification to join the channel. (Again, always trying to be helpful, our bot also understands @xmatters engage and @xmatters page.)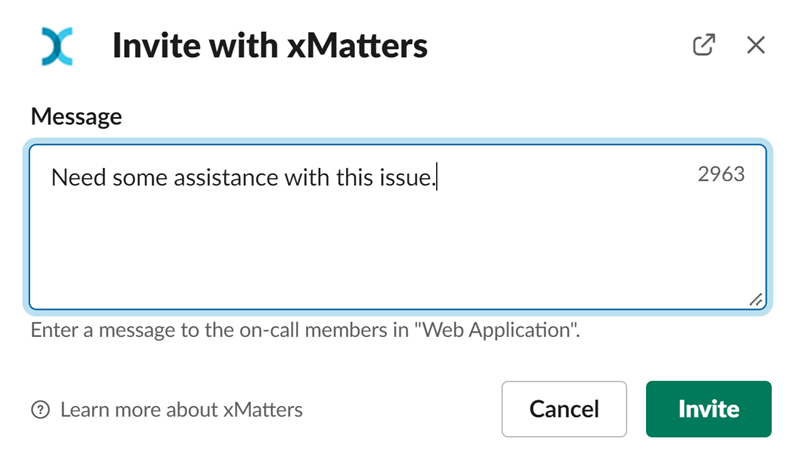 We use @xMatters in the examples above, but you can change the @ command in the App settings in Slack.
Extending your integration
To integrate with Slack using Slash Commands, check out our other Slack integration option.