Review incident metrics
Once an incident is resolved, stakeholders can review information and metrics about the incident through the incident console. This allows you to clearly see the incident's key details, such as time to detect, time to acknowledge, and time to resolve, to help perform a comprehensive analysis of an incident's life cycle. Metrics like status by duration and duration by severity are displayed in a graph to provide a visual representation of the information. You can export the data into a spreadsheet at any time during the incident's lifecycle for additional updating, reporting, or filing purposes.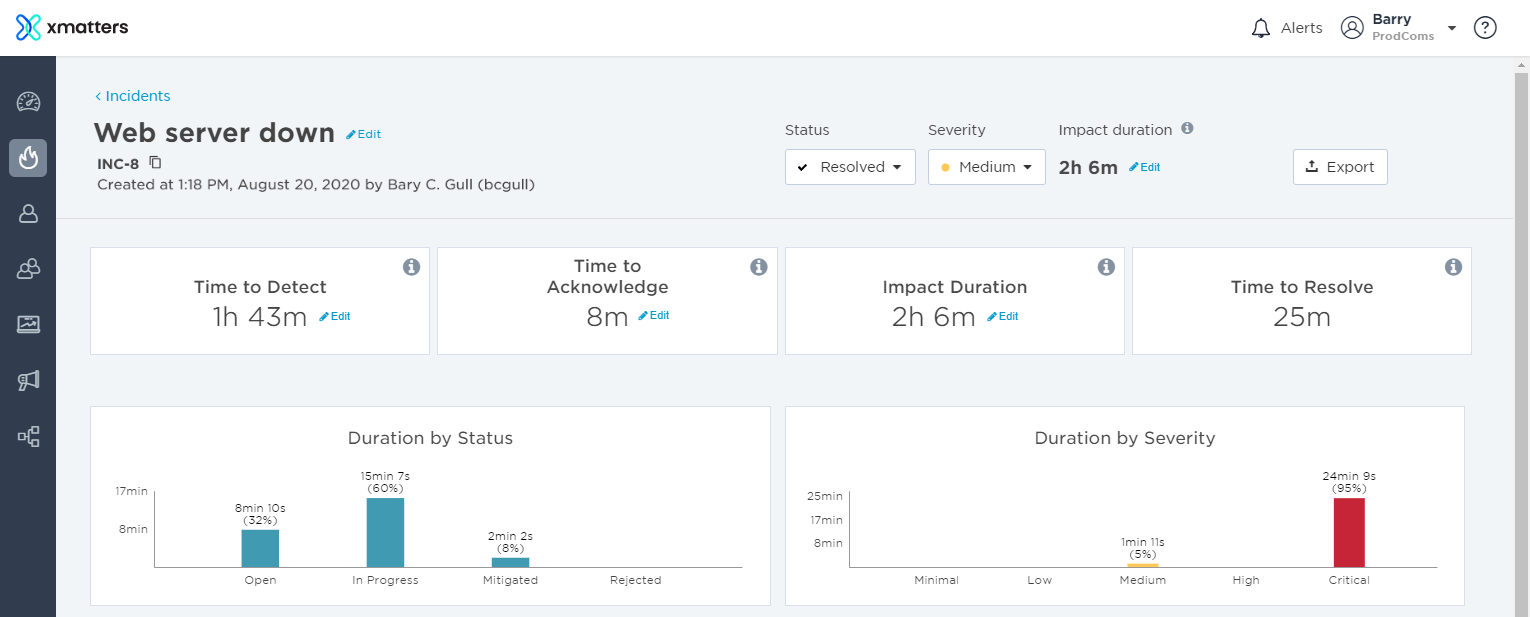 View a resolved incident's metrics and details
To view the console of a resolved incident, click the name of the incident you want to view in the Incidents list. A resolved incident's console displays the incident metrics and other key details. Some details can be edited (such as the incident summary, description, time to detect, and impact duration) to provide a more accurate postmortem report. The console for a resolved incident displays the following details:
Export incident
You can export an incident's details as a spreadsheet to perform further data analysis or update stakeholders at any time during its lifecycle. If an incident is in the Resolved status, the metrics are also included in the export.
The spreadsheet includes three tabs:
The Incident Summary provides an overview of the incident, with details like the peak severity level and overall impact duration.
The Incident Details show information based on how resolvers responded to the incident, including the user who originally initiated the incident, how long it took users to acknowledge and respond to notifications, and any collaboration channels used.
The Timeline displays all the status and severity updates, resolver responses, and comments made during the lifetime of the incident.
To export the incident:
On the Incidents screen, click the name of the incident you want to export the metrics and details for.
Make sure the basic details (such as impact duration and severity) are correct; if not, click the drop-down menu or Edit next to the relevant detail to update it.
In the top right corner of the console, click Export.