Schedule on-call shifts
The on-call shift schedule defines when shifts are active and able to receive notifications. Use different series to represent your team's real-world shift schedule and to create on-call coverage during off-duty hours.
If your on-call group is configured to use site holidays, you can create shift occurrences that only happen on holidays. For more information about creating a holiday shift occurrence, see Schedule holiday shifts.
Once you have created a shift series, you may want to configure the series to use escalations and rotations. These allow the first shift members time to respond to a notification before the remaining shift members are notified, thereby reducing the overall number of notifications sent to the on-call group. For more information about configuring the escalation timeline, see Escalate alerts within a shift. For more information about defining shift rotations, see Rotate positions within a shift.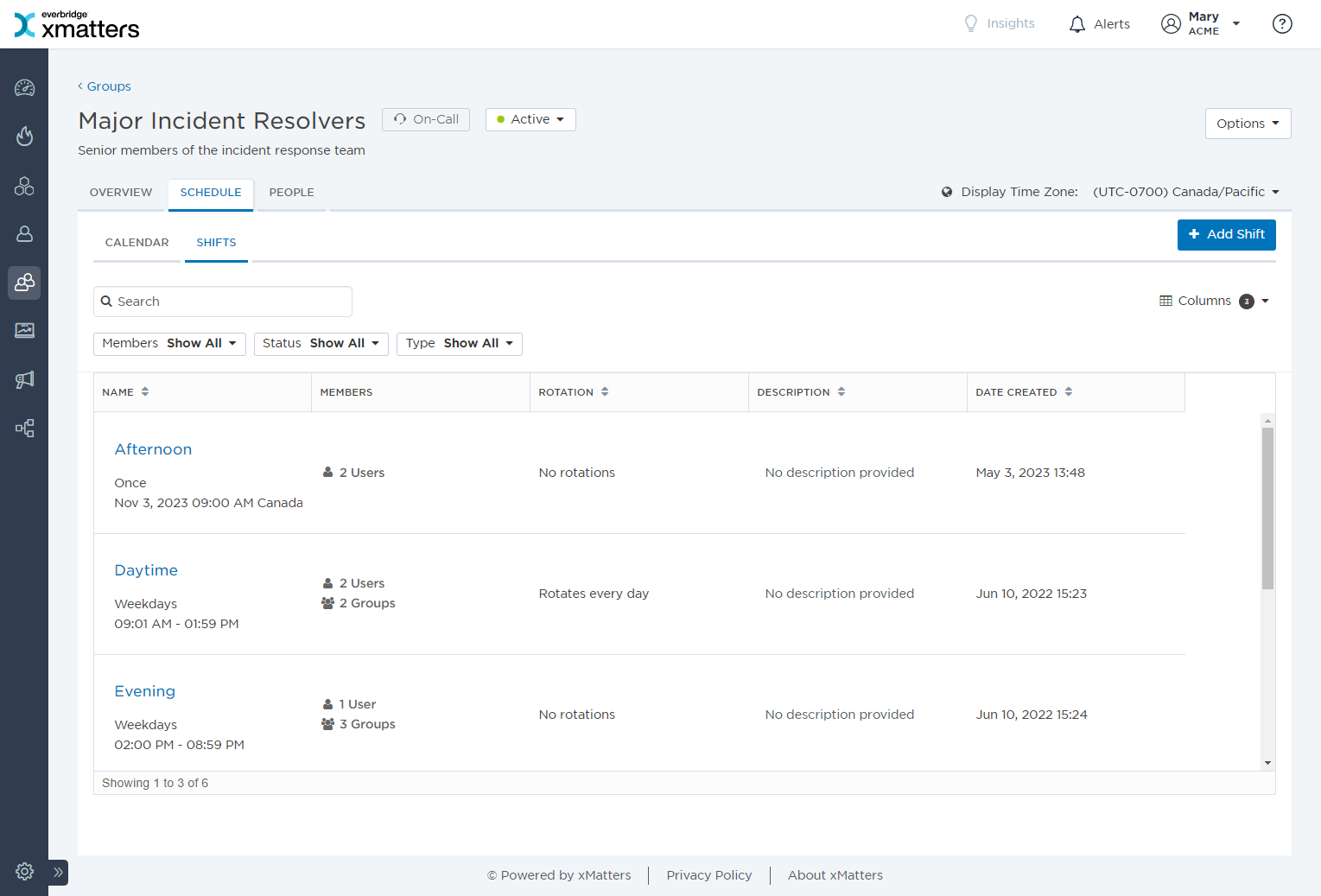 The Shifts page displays a list of all the shifts for the group, so admins can clearly review and manage shift information (such as member and rotation details). Individual shifts can be viewed and edited by clicking the name to display the shift side panel. From here, you can view it's frequency, the members within the shift, the order in which they're contacted, any escalation wait times, and if there is a set rotation.
Create, delete, and rename shifts
You can create a new empty shift series or you can copy an existing series to reuse its members and escalation timeline. The on-call group interface allows you to delete an entire series or just a single occurrence, which may help you adjust a shift schedule around special events.
Configure shift timeframes
The shift timeframe and recurrence options define when a shift occurrence is active and can receive notifications. The shift's recurrence options are based on common calendar applications you may already be familiar with; for example, you could define a shift occurrence to recur on weekend days, weekly on Fridays, on the 15th of the month, and so on.
Review the shift schedule
Once you have created the shift schedule, you may want to review it to see if there are gaps in coverage or shifts without assigned members. This helps you ensure that somebody will receive notifications regardless of when they are sent. You might also want to check out how DST changes affect your calendar.
Holiday and unscheduled shifts
There are some unique shift types in xMatters that are used differently than standard shifts. Holiday shifts are automatically scheduled for days that are defined as site holidays. Unscheduled shifts are shifts that have already completed but are left in the system so they may be viewed or copied.