Flow tools
Tools are steps that use information coming through a flow to decide what action to take next or to gather additional information from xMatters to use in the flow. They help you create richer, more refined flows adapted to your use cases.
Utility steps
The Utilities steps let you do things such as modify your flow based on information coming from previous steps or send information coming through the flow to other systems.
Switch step
A switch step functions like the switch on a set of railway tracks. It determines which route the train — or flow — needs to take next. You can base this decision point on the value of almost any property in the flow such as trigger outputs, constants, or outputs of previous steps.
Here are a few examples of how you can use a switch step:
The value of a "Severity" property: "Critical" goes one way, "High" another, everything else follows a third, default path.
A success response from a Create Ticket step: "201" continues the flow, while "400" sends a notification that something went wrong.
The value of a "Team" property: "Alpha" follows one path that includes a "Post to Alpha Chat" step and "Beta" follows another path that posts to the Beta Chat channel.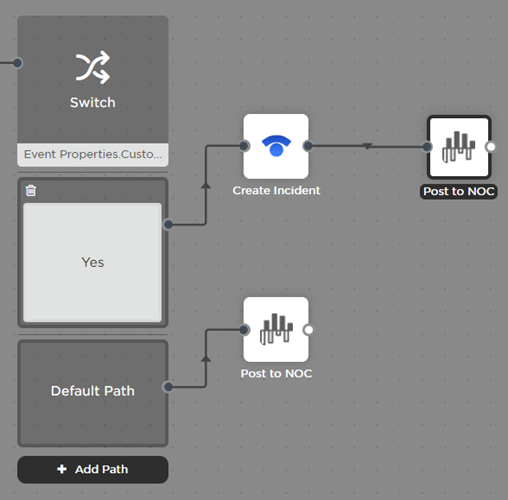 Merge step
The merge step lets you combine up to 10 flows into one path, giving you the ability to create new outputs and populate them with information for each of the flows. When a particular flow runs, the values specified for that flow are passed into the Merge step outputs.
Webhook step
The webhook steps lets you send information from the flow to any system capable of receiving an HTTP POST request.